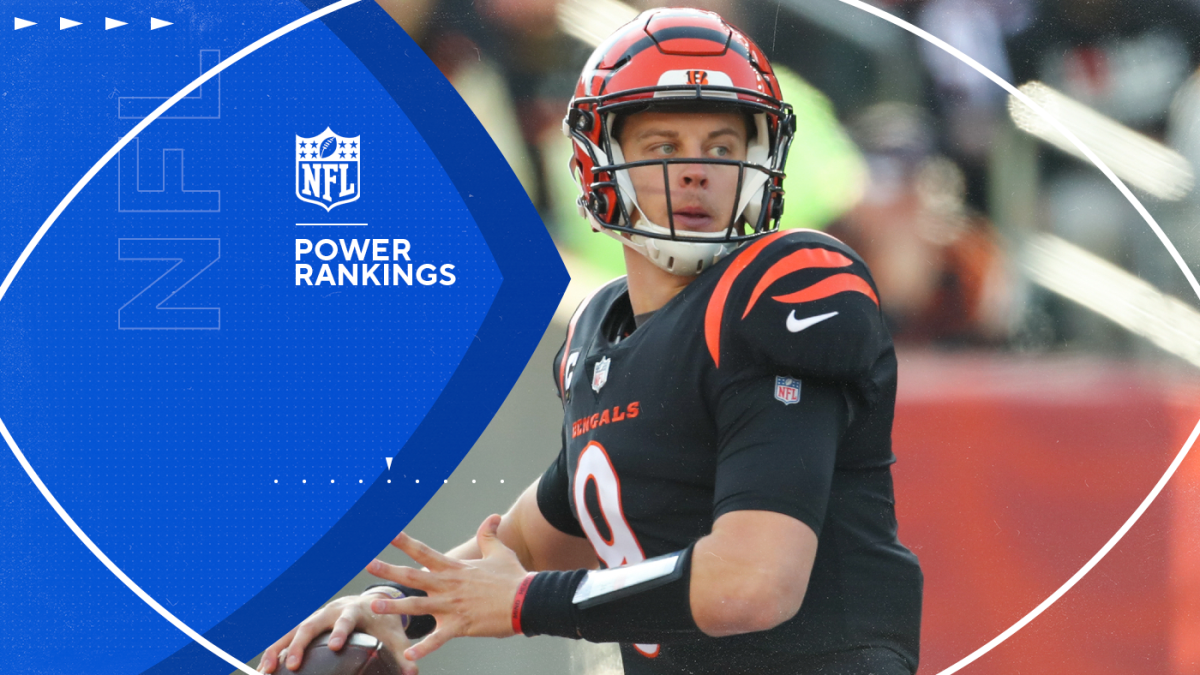 The final Power Rankings of the season always make me look bad. It happens every season, and this year is no different.
This is the time when I look back to my Week 1 rankings and compare them to the final rankings to see how just how far off I was predicting the season way back in September.
So here goes:
The Green Bay Packers end the regular season atop my final rankings as we head to the playoffs. They are also the favorite to win it all. I usually pick the Packers to win the Super Bowl — something I've done a lot of in recent years — but I didn't pick them this season since I opted to pick the Bucs to repeat.
Any chance I can get a mulligan on that? 
Heading to the playoffs, the AFC  looks wide open, but what would I know? I had the top seed at No. 21 when the season began, once again showing how this league can make us all look silly at times — especially me. 
Biggest Movers
Rk
Teams
Chg
Rcrd
 

1

--
13-4-0

They don't drop down for losing a game that didn't matter. They will get time to heal and get guys back healthy. They are the best team heading to the playoffs.

2

1
13-4-0

They are the second seed in the NFC, but they don't look like the same team that won it all last year. It's going to be a real challenge to repeat with this group.

3

3
12-5-0

They earned the top spot in the AFC, so the playoffs go through Nashville. And it might mean trying to beat a Titans team with Derrick Henry back carrying them.

4

--
11-6-0

They head to the playoffs on a little win streak, but they have to be better than the way they've played the last two weeks. The third game with the Patriots this season will be fun.

5

--
12-5-0

The defense has had some issues the past two weeks, which has to be concerning as they head to the playoffs. The health of Tyreek Hill will be huge for their offense.

6

1
10-7-0

Their high-flying passing game will be fun to watch in the playoffs if the protection holds up. They will be a tough out for any team.

7

1
10-7-0

That was not a good showing at Miami, which is concerning heading to the playoffs. They have not played well on the road.

8

6
12-5-0

They blew a big lead against the 49ers, which drops them to the third seed. Matt Stafford has to pick it up in the playoffs.

9

--
11-6-0

They blew a chance to win the division by losing to the Seahawks. So now they have to face the Rams on the road this weekend. They did beat them at their place earlier this season.

10

--
12-5-0

They head to the playoffs off an impressive offensive showing against the Eagles, but that was an Eagles team without a lot of players. They face a tough challenge in the 49ers this week.

11

3
10-7-0

They beat the Rams to get into the playoffs, and will be a dangerous team now that they are there. They are a tough, physical team. It's all about Jimmy Garoppolo.

12

--
10-7-0

By making the playoffs, they have to give strong consideration to keeping interim coach Rich Bisaccia. He righted a bad situation.

13

2
9-8-0

They head to the playoffs as a dangerous team with their ability to run the football. The pressure will be on Jalen Hurts.

14

2
9-7-1

Mike Tomlin deserves a ton of credit for getting this team to the playoffs. They aren't pretty but they found a way.

15

4
9-8-0

There will be a lot of questions about the decisions Brandon Staley made this year, especially in the final game. Justin Herbert is too good to be watching the playoffs

16

3
9-8-0

That was a big-time choke job against the Jaguars. For all the talk of how tough this team was this season, they will be watching the playoffs. Amazing.

17

--
9-8-0

They didn't make the playoffs, but Sean Payton did a heck of job getting this team close. The problem is age is starting to become a factor on this team.

18

--
8-9-0

This season simply had too much to overcome with all the injuries and COVID issues. They were a depleted team.

19

--
7-10-0

Vic Fangio is out as coach, so who takes over? Dan Quinn could be in play. They need to be much better on offense, whoever takes over.

20

--
8-9-0

The big issue facing this team is the future of Baker Mayfield. He should be back at least for next season.

21

--
8-9-0

With Mike Zimmer fired, they are in the market for a new coach. The issue now is what to do with Kirk Cousins going forward.

22

--
9-8-0

They made a strange move in firing coach Brian Flores. It was for more than just his coaching record. There was talk of friction in the building with him and others.

23

--
7-10-0

Will Russell Wilson be the quarterback next season? He might want out, but that would be a mistake from Seattle's point of view. They need to be better in front of him.

24

--
7-10-0

The big question is whether Matt Ryan will be back. He should be, as well as he played this season with all the issues around him.

25

--
7-10-0

This a team with some good, young talent, but they need to find a quarterback. They can't win with what they have now.

26

--
5-12-0

The offense was horrible this season, which led to the firing of Joe Brady. They need a new quarterback. That could be Deshaun Watson.

27

--
6-11-0

Matt Nagy is out as coach, which was the right thing to do. Now they have to find a coach to build around Justin Fields.

28

--
4-13-0

They have to be thrilled with the progress of Davis Mills. He can be their long-term answer. Now it's time to trade Deshaun Watson.

29

--
3-13-1

They have some good, young pieces to build around. And they have to like what they got from coach Dan Campbell this year.

30

--
4-13-0

They are a disaster and changes have to be made. Should Joe Judge come back? Doesn't matter. He's back.

31

--
4-13-0

They just didn't have the talent to compete this season. They have to build this team around Zach Wilson.

32

--
3-14-0

Against the Colts, they finally saw what Trevor Lawrence can do when given time. That victory over the Colts gives them some hope heading to the offseason.